posted by Bridget on 30 November 2010
A very interesting article in the Guardian by Jonathan Jones, on the significance of school girls protecting a police van during this week's student demos, raised a number of questions about what this all meant. What I was as interested in was how the students, in particular the school kids dressed up for the demo, made themselves a cross between a St Trinian and a 1960 hippy, short skirts and headbands, showing an acute awareness of the cameras.
So this week I thought we would take a look at how dress and fashion has changed over the years for those women who have taken to the streets to protest about the vote, bombs, foxes and student fees.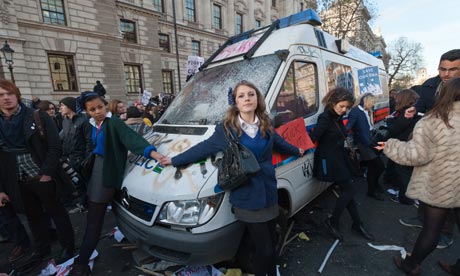 posted by Michael on 29 November 2010
Click on the image to read our newsletter online
posted by Michael on 28 November 2010
Our last on the theme of British landscape is number 5 from Jem Southam's series "Red River".
posted by Michael on 27 November 2010
Mark Power's "The Shipping forcast" seduced Radio 4 listeners with both the images and their familar but mysterious chant-like tags. This is "WIGHT: Northwesterly backing southwesterly 6 or 7, increasing gale 8 for a time. Showers then rain. Good becoming moderate or poor."
posted by Michael on 26 November 2010
Paul Graham's road trip along the Great North Road, the A1.
posted by Michael on 25 November 2010
Denis Doran uses a flat bed scanner minus its lid combined with other images to create a "'virtual' cast of the ground" beneath his feet.